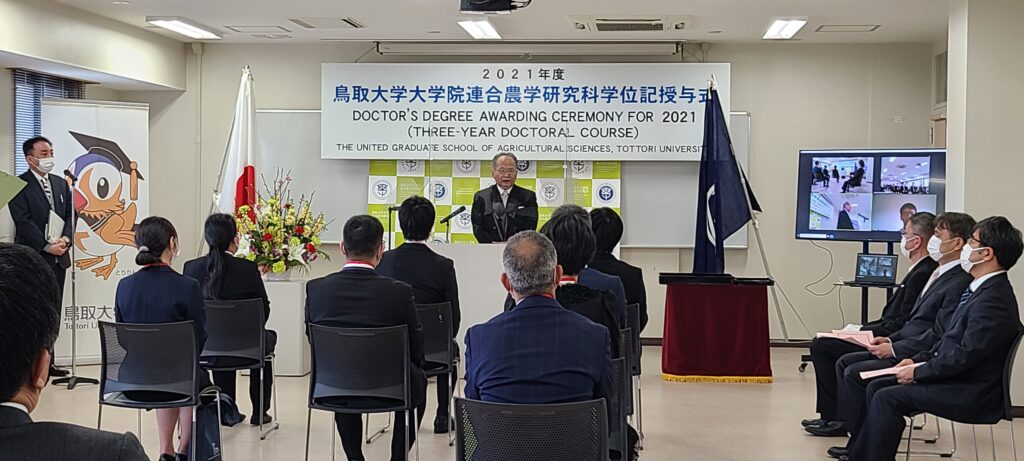 3月11日、連合農学研究科学位記授与式が挙行されました。今年度は新型コロナウイルス感染症の拡大防止のため、修了生及び関係教職員のみで実施いたしましたが、山口大学配属の学生1名及び関係教職員はオンラインにより式典に参加しました。
授与式では中島廣光学長から学位記が一人ひとりに授与され、児玉連合農学研究科長から記念のメダルが手渡されました。中島学長は「博士課程の修了は研究の終わりではなく、新たな挑戦の始まりです。皆さんがグローバルに活躍し、世界の持続可能な発展に貢献する人材となることを心から願っています。」と告辞を述べ、修了生9名の今後の活躍に期待をよせました。
---
修了生9名の内訳は以下のとおりです。
[課程修了]
・生産環境科学専攻3名
・生命資源科学専攻2名
・国際乾燥地科学専攻4名
On March 11, the UGSAS degree awarding ceremony was held. This year, to prevent the spread of the COVID-19, the ceremony was held only for graduates and related faculty members, but one student assigned to Yamaguchi University and related faculty members participated in the ceremony via online.
At the ceremony, each graduate received a degree certificate from President Hiromitsu Nakajima and a commemorative medal from Dean Kodama of the United Graduate School of Agricultural Sciences.
President Nakajima said, "Completion of the doctoral program is not the end of your research, but the beginning of a new challenge. I sincerely hope that you will be active globally and contribute to the sustainable development of the world. He expressed his hopes for the future activities of the nine graduating students.
---
The breakdown of the nine graduates is as follows
[Course Completed]
Bioproduction and Bioenvironmental Sciences: 3
Bioresource and Life Sciences: 2
Global Dryland Science: 4