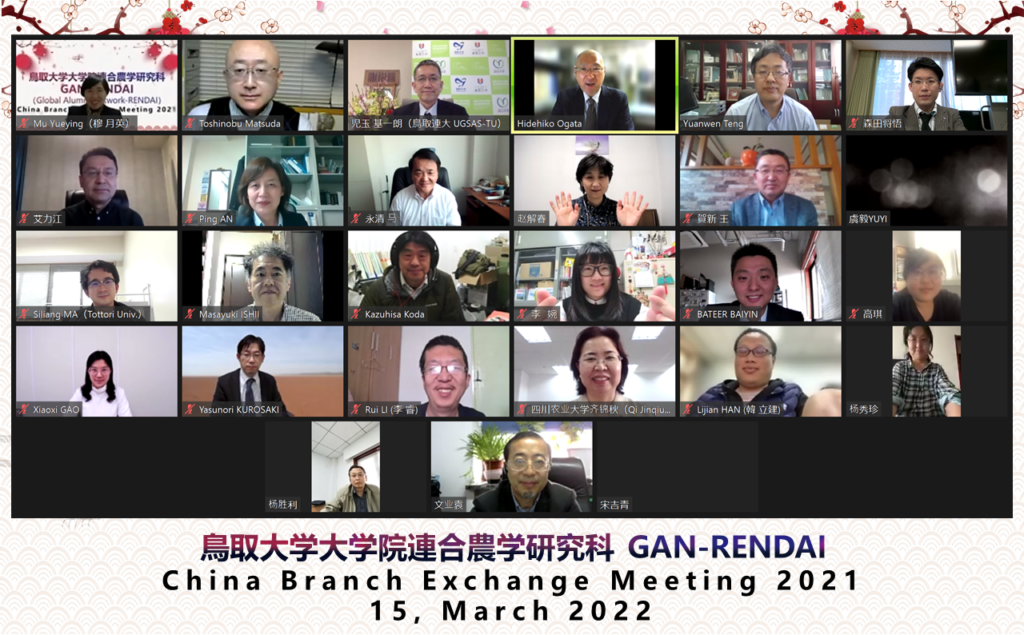 2022年3月15日、鳥取大学大学院連合農学研究科グローバル同窓会ネットワーク〔GAN-RENDAI〕主催による「中国ブランチ交流集会2021」をオンラインにより開催しました。
GAN-RENDAIは、連合農学研究科に関わる者すべて(修了生・在学生・関係教員・関連団体)が交流するプラットホームとしての組織です。その中でも中国は最多の修了生を有する国であり、2018年度にはGAN-RENDAIにとって初の海外支部となる中国ブランチを発足させました。今回の交流集会は、中国ブランチとの定期的な交流及び密接な連携を図るため、新型コロナ感染症等のために中止を余儀なくされた2020年度の計画を活かす形で企画・開催いたしました。
---
交流集会ではGAN-RENDAIの児玉基一朗会長(鳥取大学大学院連合農学研究科長)から連合農学研究科の現状紹介を踏まえた開会挨拶の後、GAN-RENDAI中国ブランチの穆月英会長(中国農業大学経済管理学院教授)及び、鳥取大学の安延久美副学長(国際交流推進担当)から開催を祝う挨拶がありました。
その後、鳥取大学乾燥地研究センターの安萍准教授、中国に在住する修了生、中国出身の在学生、中国農業大学の学生の計8名からそれぞれ研究発表を行い、参加した約60名からの質疑応答による活発な意見交換が行われました。
終わりに、児玉会長並びに穆会長の双方から、今後も交流を継続していくことを約束し閉会となりました。みなさん懐かしい顔との久しぶりの再会となったこともあり、会が終わってからも交流が続きました。
On March 15, 2002, the "China Branch Exchange Meeting 2021" was held online, hosted by the Global Alumni Network of the United Graduate School of Agricultural Sciences (GAN-RENDAI), Tottori University.
GAN-RENDAI is an organization that serves as a platform for all those involved with the UGSAS(alumni, current students, related faculty, and related organizations) to interact.
China has the largest number of alumni among these countries, and in 2018, GAN-RENDAI established a China Branch, the first overseas branch for GAN-RENDAI.
This exchange meeting was planned and held in order to promote regular exchanges and close collaboration with the China Branch, and to make use of the plans for FY2020 that had to be cancelled due to COVID-19.
---
At the exchange meeting, Chairperson of the GAN-RENDAI Dr. Motoichiro Kodama (Dean, of the UGSAS Tottori University) gave an opening address introducing the current status of the UGSAS, followed by congratulatory remarks from GAN-RENDAI China Branch President Mu Yueying (Professor, School of Economics and Management, China Agricultural University) and Vice President Kumi Yasunobu (Vice President, International Exchange Promotion, Tottori University).
Afterwards, Associate Professor An Ping of Tottori University's Arid Land Research Center, alumni living in China, current students from China, and students from China Agricultural University each gave a presentation on their research, which was followed by a lively discussion with questions and answers from the approximately 60 participants.
At the end of the meeting, both Chairperson Kodama and Chairperson Mu promised to continue the exchange in the future. Everyone was reunited with old faces for the first time in a long time and continued to interact with each other even after the meeting was over.