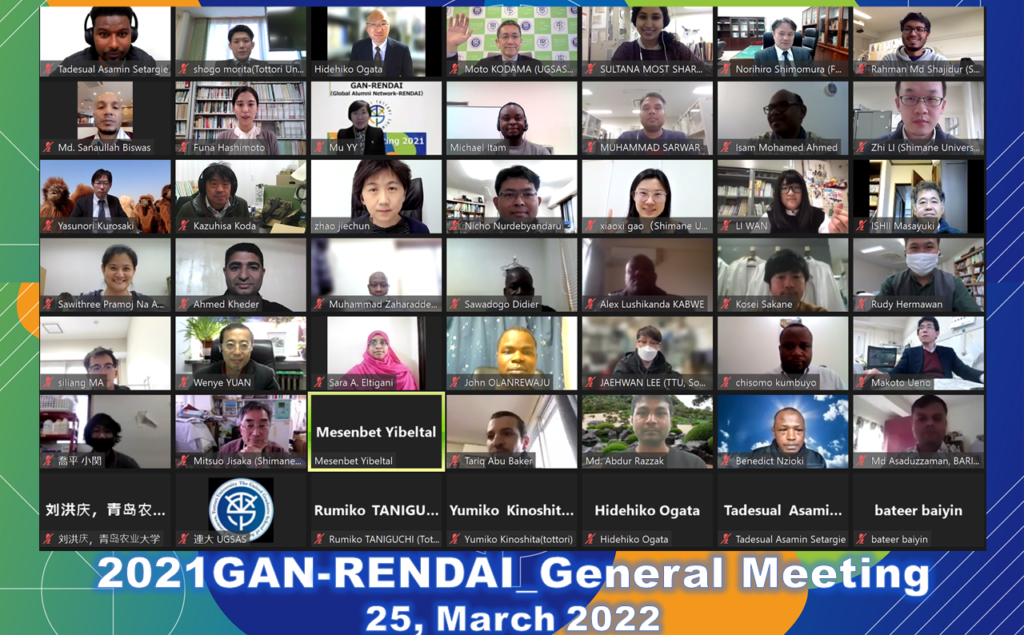 2022年3月25日、鳥取大学大学院連合農学研究科グローバル同窓会ネットワーク〔GAN-RENDAI〕主催による「2021年度総会」をオンラインにより開催しました。
GAN-RENDAIは、連合農学研究科に関わる者すべて(修了生・在学生・関係教員・関連団体)が交流するプラットホームとしての組織です。
2021年度は⼈的ネットワークの強化を図り、情報を発信するプラットホームとしてWEB サイトを開設しました。
このWEBサイトの開設に合わせ、定期的な情報交換の場としての総会を初めて開催しました。
---
総会ではGAN-RENDAIの児玉基一朗会長(鳥取大学大学院連合農学研究科長)から連合農学研究科の現状紹介を踏まえた開会挨拶の後、鳥取大学の田村文男教育担当理事、安延久美副学長(国際交流推進担当)、霜村典宏農学部長から総会の開催とGAN-RENDAIの今後の発展を願う挨拶がありました。
続いて、緒方英彦副研究科長からWEBサイトの活⽤⽅法の紹介を、GAN-RENDAI中国ブランチの穆月英会長(中国農業大学経済管理学院教授)からブランチの活動報告を行った後、ブランチ拡充計画等を含めた今後の活動⽅針に対しての意⾒交換を⾏いました。
その後、3名の修了生と3名の在学生からそれぞれ研究活動報告が行われました。
今回の総会では、世界各国に在住する関係者が参加できるようにオンラインによる開催としたところ、14カ国から79名の参加がありました。
参加者アンケートでは高い満足度が得られ、修了生と在学生の交流のためにも継続して開催を希望する意見が多くありました。
また、WEBサイトの活性化についても多くの意見があったほか、自国にブランチを作りたいという意見も多くあり、このたびの成果を踏まえ2022年度は更に強固で広範なネットワークを広げていくことを目指します。
On March 25, 2022, the "General Meeting 2021" was held online, hosted by the Global Alumni Network of the United Graduate School of Agricultural Sciences (GAN-RENDAI), Tottori University.
GAN-RENDAI is an organization that serves as a platform for all those involved with the UGSAS(alumni, current students, related faculty, and related organizations) to interact.
In FY2021, we strengthened our human network and opened a website as a platform to disseminate information. In conjunction with the launch of the website, a general meeting was held for the first time as a place for regular exchange of information.
---
At the exchange meeting, Chairperson of the GAN-RENDAI Dr. Motoichiro Kodama (Dean, of the UGSAS Tottori University) gave an opening address introducing the current status of the UGSAS, afterwards, Trustee (Education and International Exchange) Fumio Tamura, Vice President (Promotion of International Exchange) Kumi Yasunobu, and Dean of the Faculty of Agriculture Norihiro Shimomura gave opening remarks on the General Assembly and their wishes for GAN-RENDAI's future development.
Then, Dr. Hidehiko Ogata, Vice Dean of GAN-RENDAI introduced how to use the website, and Dr. Mu Yueying, Chairman of GAN-RENDAI China Branch (Professor, School of Economics and Management, China Agricultural University), reported on the activities of the branch.
This was followed by reports on research activities by three alumni and three current students.
This year's general meeting was held online so that interested parties residing in countries around the world could participate, and 79 people from 14 countries attended.
The participants' questionnaire showed a high level of satisfaction, and many expressed a desire to continue holding the meeting for the sake of exchange between alumni and current students.
In addition, there were many opinions regarding the revitalization of the website, and many expressed a desire to establish a branch in their own country.
Based on the results of this event, we aim to expand the network even more firmly and extensively in FY2022.